Tourist Centers
Munnar
Munnar is situated at the confluence of three mountain streams - Mudrapuzha, Nallathanni and Kundala, 1600 m above sea level. This hill station was once the summer resort of the erstwhile British Government in South India. Sprawling tea plantations, picture-book towns, winding lanes and holiday facilities make this a popular resort town. Among the exotic flora found in the forests and grasslands here is the Neelakurinji. This flower that bathes the hills in blue every twelve years, will bloom next in 2006 AD. Munnar also has the highest peak in South India, Anamudi, which towers over 2695 m.
Want to know more details about Munnar ? www.munnar.com
Mattupetty (13 kms from Munnar)
Situated at a height of 1700 m, Mattupetty is known for its highly specialised dairy farm-the Indo Swiss livestock project. Over a 100 varieties of high-yielding cattle are reared here. Visitors are allowed into 3 of the 11 cattle sheds at the farm. Visiting time: 0900-1100 hrs and 1400-1530 hrs. Rate Rs.5 per head.
The Mattupetty lake and dam, just a short distance from the farm, is a very beautiful picnic spot.The sprawling Kundala tea plantations and the Kundala lake are other attractions in the vicinity. DTPC Idukki provides boating facilities on the Mattupetty Dam.Speed launch and motorboats are available on hire.
Echo Point(15 kms from Munnar)
This scenic place gets its name from the natural echo phenomenon here. Echo Point is on the way to Top Stations from Munnar.
Eravikulam National Park (15 kms from Munnar)
The 97 sq. km. park is situated in the Devikulam taluk and is home to the Nilgiri tahr. The Anamudi peak (2695m) is located in the southern region of the park.
Top Station (32 kms from Munnar)
1700 m above sea level, this is the highest point on the Munnar-Kodaikanal road. The rare Nilakurinji (strobilanthus) belongs to this region. This plant blooms every 12 years bathing the hill sides in bright blue. Top Station also offers a panoramic view of the neighboring state of Tamil Nadu.
Marayoor(40 kms from Munnar)
This is the only place in Kerala that has natural growth of sandal wood trees. The sandal wood factory of the forest department, the caves (Muniyaras) with murals and relics from the new stone age civilization and the children's park spread across a hectare of land under the canopy of a single Banyan tree are of great interest to tourist's. Thoovanam waterfalls and Rajiv Gandhi National Park are also near by.
Cheeyappara & Valara Water falls
The Cheeyappara and Valara waterfalls are located between Neriamangalam and Adimali on the Kochi- Madurai national highway. The Cheeyappara waterfalls cascade down in seven steps. It is a real feast for the eyes. This is also a great place for trekking.
Next »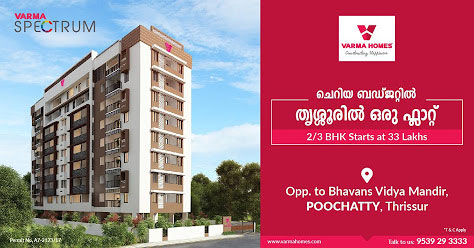 New Apartment in Thrissur
2 & 3 BHK Apartments in Thrissur with Luxury Amenities