Forest Wildlife
IDUKKI WILD LIFE SANCTUARY
This sanctuary extends over the Thodupuzha and Udumpanchola taluks of Idukki district spreading over 105 Sq. Km. at 450 - 748m above sea level. The Idukki reservoir formed by three dams-Cheruthoni, Idukki and Kulamavu-extends to 33 sq km.
ANIMALS
Elephants, Poorcu Pine, Sambar Deer, Wild dogs,Jungle cats, Malabar Gaint Squirrel, Wild boar etc.
SNAKES
Cobra, Viper, Krait and a large number of non- poisonous snakes.
BIRDS
Jungle fowl, Myna, Laughing thrush, Black bulbul, Peafowl, Wood pecker, King fisher etc.
CHINNAR WILDLIFE SANCTUARY
Lying in Devikulam Taluk of Idukki district, chinnar was declared as a wildlife sanctuary in 1984. It is located in the rain shadow region of Western Ghats. It is the second habitat for the endangered Giant Grizzled Squirell in India. With an area of 90.422 sq kms, Chinnar has the unique thorny scrub forest with Xerophytic species.
The undulated terrain with rocky patches increase the scenic splendour of the sanctuary. As the altitute varies from 500 to 2400 metres within a few kilo metre radius, there is a drastic variation in the climate and vegetation. The highest peaks are Kottakombumalai (2144 metre), Vellaikal malai(1863m), Viriyoottu malai(1845 metre). Unlike in most forests of Kerala, Chinnar gets only about 48 rainy days in a year-during October - November (North - East Monsoons). The forest types comprise thorny scrub forests, dry deciduous forests, high sholas and wet grasslands.
FLORA
The following species are found in the thorny scrub forests
Acacia arabica (Karivelam) Acacia leucofolia (Velvelam) Acacia concinna (Cheevaka) Prosopis juliflora (Prosopis) Opuntia dillenii (Kallimul).
DRY DELICIOUS FORESTS
Santalum album (chandanam), Anogeissus latifolia (Mazhukanjiram), Tamarindus Indica(Puli), Terminalia arjuna (nirmaruthu), Pongamia glabra (pongau) Largerstoemia lanceolata (Ventheku), Dalbergia latifio(Rosewood), Tectona grandis (Teak), Cassia fistula (Konna), Terminalia bellerica (Thanni), Emblica officianalis (Nelli) etc. are the common species.
HIGH SHOLAS AND WETLANDS
Rhododendrom Nilagiricum (Kattu chemparathi), Elaeocarpus recurvatus (Bhadraksam), Strobillanthus kunthianus (Neelakurunji) grow in these areas.
FAUNA
Elephant, Gaur, Panther, Spotted deer, Sambar, Giant Grizzled Squirrel, Hanuman monkey, Rabbit etc. inhabit the chinna forests. The Giant Grizzled Squirrel is an endangered species. It is dull gray in colour.
WILDLIFE TOURISM
The Chinnar sanctuary is accessible by good roads from the Airports of Coimbatore and Kochi. The nearest railway stations are Aluva(200 km) and Pollachi(60km).
As you travel along the road from Karimutti to Chinnar, you can spot elephant, spotted deer, sambar, hanuman monkey and even peacocks on either side of the road . This is a unique experience because generally one has to go deep into the jungle to see wildlife as in the case of most other sanctuaries.
PERIYAR TIGER RESERVE
Getting to Thekkady is as sublime as the destination itself. A Scenic journey past mistcapped Mountains, spice plantations and open grasslands lined with spectacular waterfalls and delightful trakking trails forms the access to your hideaway here. Perched amidst dense greenery in the outskirts of the Periyar Tiger Reserve; Throwing up pleasant surprises like wild boars scuttling across the road in front, as you near the sanctuary. Which, sprawling across 777sq.kms, is one of the largest in India. With its matchless scenic beauty and the facilities offered by the Periyar lake formed by the damming of the Periyar river attracts a lot of tourists every year. The sanctuary spreads over an area of 673 sq.km and is situated at a height of 900 to 1800 metres above mean sea level. Facilities are available for cruising in this lake.
Wild animals seen here include elephants, bisons, sambar, monkeys and wild bear. Fortunate visitors can have a glimpse of the tigers foraging in the area. How ever on sunny summer days one can sight herds of wild elephants bathing in the lake. However the bisons are a wary and hardy lot and usually never allow any intruder to approach them. The sound of the motor boats scare them away. But a keen animal lover can stay in the few observation towers for a few days and luck will surely come in their way. Some of the famous tea gardens are located around this place. Further Peermade 43 k.m below Thekkady offers a golf-course and Peermade offers excellent facilities for stay.
Thekkady-the very sound of the name conjures up images of elephants, unending chains of hills and spice scented plantations.Here in the crisp, cool air of the Western Ghats you will experience the most enchanting holiday. With the animals of the wild and the simple unsophisticated mountain people. In the Periyar forest of Thekkady is one of the finest wildlife reserves in India, and spread across the entire district are picturesque plantations and hill towns that hold great opportunities for treks and mountain walks.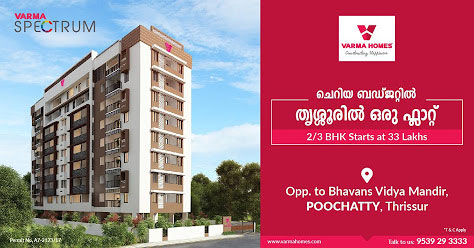 New Apartment in Thrissur
2 & 3 BHK Apartments in Thrissur with Luxury Amenities